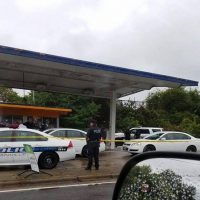 (Danville, Va.) — Danville Police say the clerk at the Joy Food Mart was shot and killed Tuesday morning.
Investigators were called to the business at 507 Riverside Drive just before 10 a.m. after receiving a report that a man had been found dead behind the counter of the convenience store. The Danville Life Saving Crew responded and found an unresponsive male who was pronounced dead at the scene.
The victim was identified as 54-year-old Tahir Mahmud of Danville. Police say he was operating the store at the time and died of a gunshot wound. His death is being carried as a homicide. Investigators have not said whether the store was robbed.
A Pittsylvania County Sheriff's deputy responded with a bloodhound to assist local police with a K-9 track.
The search turned up nothing and Danville Police are asking anyone with information on Mahmud's murder to call Danville Crime Stoppers at (434) 793-0000.