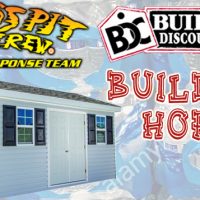 From October 11th – November 1st, if you stop by Builder's Discount Center on Goodyear Blvd with items to donate to God's Pit Crew, you'll be placed into a drawing to win a Storage Building Kit from BDC! For every item you bring, you receive an entry. Bring ten items = ten entries.
Winner will be drawn, announced and contacted Friday, November 3rd.
Refer to what's featured in a God's Pit Crew "Blessing Bucket" for a reference of items accepted by God's Pit Crew:
Find out more about Builder's Discount Center's packages and specials HERE.