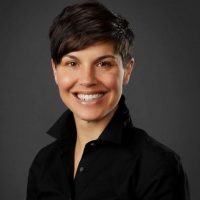 (Danville, Va.) — Alexis Ehrhardt  is the new president and CEO of the Danville Pittsylvania County Chamber of Commerce.
Ehrhardt is currently the executive director of the Center for Community Engagement and Career Competitiveness at Averett University and will start her new job in January.
She succeeds Laurie Moran, who died of cancer last summer after heading the local agency for the past fifteen years.
Ehrhardt was chosen from a large field of applicants. Jorgenson Consulting presented the chamber's search committee with eight finalists.
At Averett, she established a local Career Development Advisory Committee, led the recruitment of 22 employers to participate in the Engaged Employers Program, secured a state-level grant to establish an AmeriCorps VISTA program in the region, and hosted the Governor's Summit on Engagement in the Commonwealth.
Ehrhardt lives in Danville with her husband Scott, a senior associate at Dewberry, and their two sons, Xavier and Hayden.