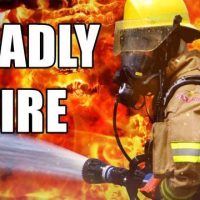 (Chatham, Va.) — Officials say the wife of Chatham's mayor died in a fire at their Davis Road home Thursday afternoon.
Pittsylvania County Public Safety Coordinator Chris Slemp says firefighters found a woman dead in the basement after responding to a 911 call from a male at the house at 2:07 p.m. The woman's body was transported to the Medical Examiner's Office in Roanoke.
Chatham Mayor Roy Byrd Jr. was treated for smoke inhalation at the scene. Byrd was taken out of the burning home on a stretcher and given oxygen while being transported to a local hospital. He was later transferred to UVA Medical Center.
City Council member C.B. Cundiff identified the dead woman as the mayor's wife, Lois Byrd. Family members declined to talk to reporters.
Slemp said the fire is believed to have started in the basement.
Pittsylvania County Fire Marshall Steve Bowman and the Pittsylvania County Sheriff's Office are investigating the cause of the fire.
Firefighters from Chatham, Gretna and Blairs fought the blaze.