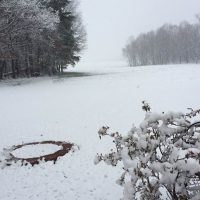 (Danville, Va.) – The snow that gave students a day off from school and forced some businesses to close for the day should disappear quickly, as temperatures rise to the mid-40s Tuesday afternoon.
State and local police caution that many roads are icy this morning, especially in residential neighborhoods. The snow contributed to a handful of weather-related accidents in Danville and Pittsylvania County, but there were no reports of injuries. Virginia State Police say that a pedestrian was struck and killed Monday in a multi-vehicle accident on ice slickened roads in Montgomery County.
Schools in Danville, Pittsylvania and Caswell Counties are closed today.