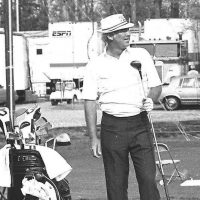 (Danville, Va.) – PGA professional and Danville resident Bobby Mitchell has died.
Mitchell was born in Chatham, Virginia in 1943 but grew up in Danville. He dropped out of high school and turned pro at 15. He won the Virginia State Golf Association Open, the Virginia State PGA Open and the Carolinas PGA Championship before joining the PGA Tour.
Mitchell won two PGA Tour events during his career: the 1971 Cleveland Open and the 1972 Tournament of Champions, besting Jack Nicklaus. He had more than two dozen top-10 finishes in PGA Tour events including more than a half-dozen 2nd or 3rd-place finishes. His best finish in a major was at the 1972 Masters Tournament.
Starting in 1991, Mitchell traveled to Finland in the summer to teach golf to young people in association with Averett Univerity. Mitchell joined the Champions Tour in 1995.
Bobby Mitchell remained in Danville throughout his life. He was 75.