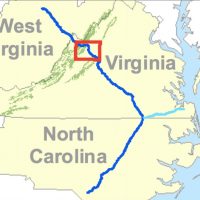 (Nelson County, Va.) — A federal court has issued a ruling saying that construction of the Atlantic Coast pipeline must be halted.
The judges vacated a key pipeline permit, saying the U.S. Fish and Wildlife Service hasn't provided specific limits for the allowable impact on threatened and endangered species.
The Southern Environmental Law Center says Tuesday's order from the Richmond-based 4th U.S. Circuit Court of Appeals requires an immediate halt to "all construction and any activity" associated with the pipeline, which would carry fracked natural gas from West Virginia through North Carolina.
A spokeswoman for the lead developer of the Atlantic Coast Pipeline says the court order does not mean work on the multistate project has to stop.
Jen Kostyniuk is director of communications for Dominion Energy. She said in an email that "we will continue to move forward with construction as scheduled."
That position is at odds with attorneys for the environmental groups that sued over the permit, who say the order means all construction must cease.