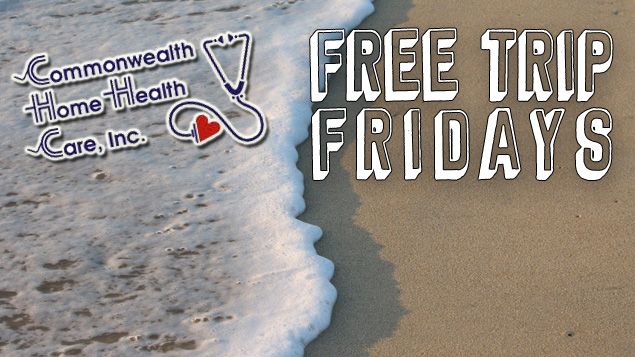 http://www.commonwealthcare.com/
https://www.facebook.com/commonwealthhomehealthcare/
We're giving away a trip for two to Myrtle Beach EVERY Friday! Be listening for the Commonwealth Keyword of the Day Monday – Thursdays all this month.
Text us that keyword to 1.800.289.9254 for your chance to win!
PLUS: You've got a ADDITIONAL chance to win if you stop in their store on Piney Forest Road and register!
Friday mornings at 7:10, we'll draw and announce the winner of:
Myrtle Beach Trip for two: 3 nights of accommodations at Sands Ocean Club Resort
Admission for two to Family Kingdom Amusement park, Family Kingdom Water Park, Ripley's Believe It or Not Museum, Ripley Aquarium, Ripley's 4D Moving Theater and Ripley's Haunted Adventure
$100 Gift card
It's Free Trip Fridays with Commonwealth Home Health!
Check out Commonwealth Home Health Group for everything from Oxygen, BiPap and CPap to home health equipment, fire safety services, pharmacy and their beautiful boutique located on Piney Forest Road!
Official Contest Rules:
Must be 21 or older to enter
Prize(s) must be taken as offered
Prize(s) are non transferable
Entries must be made via text message to the official contest text line and must contain the keyword specified for that particular day
Standard message and data rates apply
Employees and immediate family members of Piedmont Broadcasting Corporation (WAKG/WBTM) and Commonwealth Home Health Group are not eligible to enter or win
Winners determined by random drawing
Judges' decision is final
Prize must be claimed as well as trip scheduled within 30 days of winning or it is forfeited
Piedmont Broadcasting Corporation reserves the right to change this contest and/or its giveaway if deemed necessary