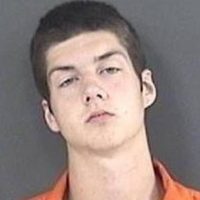 (Roanoke, Va.) — Roanoke County police have made an arrest in a triple homicide discovered Tuesday morning.
Police have arrested Trevor E. Charles, 18, of Roanoke and charged him with with three counts of first-degree murder and three counts of use of a firearm in the commission of a felony.
Police say Miranda B. Trump, 18, of Roanoke, Brandon D. Dekle, 20, of Bent Mountain, and Cole P. Kennedy, 21, Bent Mountain were all found dead at about 1 a.m. Tuesday.
Relatives say said Kennedy and Dekle lived together in the home where police discovered their bodies. The third victim did not live at the address.
Trump's father contacted police when he could not find his daughter. Trump's car was discovered down an embankment from Honeysuckle Road, a gravel road in the Bent Mountain community.