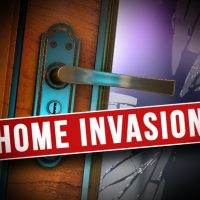 (Danville, Va.)  — Danville Police say a woman who showed up in the emergency room with gunshot wounds Monday night was shot during a home invasion.
The 62-year-old tells investigators that two men forced their way into her Hughes Street home at around 10:00 Monday night and demanded money. One was armed with a handgun and shot the woman in the hand. She also suffered a graze wound to her arm during the robbery.
Both men drove off in a dark-colored SUV, taking a cell phone before running from the home.
The robbers are both black males. One is 6 feet 4 inches tall with a beard, the other shorter and muscular.
The Danville Police Department was notified about an hour later, after the woman showed up in the emergency room suffering from gunshot wounds.