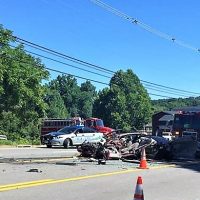 (Danville, Va.) — Virginia State Police have identified the man killed in a three-vehicle accident Monday as 34-year-old Terrance Damar Watson of Danville. The wreck happened just before 10 a.m. Monday on 29 Business in Blairs.
According to state police, Watson's Ford Taurus was traveling north on Route 29, in the right lane, when the car crossed the center line and was hit by a 1973 Chevy truck headed south.  The truck was then rear-ended by a Toyota 4Runner, which was also southbound on 29.
State police say Watson was not wearing his seatbelt and was taken to Danville Regional Medical Center, where he died before he could be flown to another facility.
The utility truck was driven by Jackie W. Duncan, 49, Ridgeway and the SUV was driven by Reginald Venable, Jr., 18, of Blairs. Both were injured in the wreck, which remains under investigation.