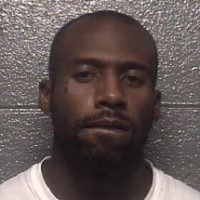 (Danville, Va.) — Danville Police were in the process of transporting 28-year-old Raven Juowane Miller from Sovah Health to the Danville City Jail when he escaped from police custody just before 11 a.m. Thursday.
Miller was wanted for a parole violation, a probation violation, and for failure to appear in court.
The Danville man was taken into custody during a traffic stop on Wednesday. During that arrest, he told officers he swallowed an illegal drug and needed medical attention. Police took him to Sovah Health for treatment. Miller remained in custody of Danville Police during the night and was in the process of leaving the hospital when he escaped as officers were securing him in a police vehicle.
Miller was handcuffed in the front while he was being transferred into the police vehicle when he assaulted one of the officers and fled on foot. During the escape, a back-up officer deployed a Taser, which was ineffective. He ran in the direction of Paxton Ave. Officers responded and set up a perimeter. After a short door-to-door search in the 1200 block of Paxton Avenue, he was found hiding inside a home and arrested shortly before noon.
He was taken to the Danville City Jail and is currently being held under no bond.
Miller is also charged with felony escape custody by force, felony assault on police and felony obstruction of justice.
The arresting officers were not injured.