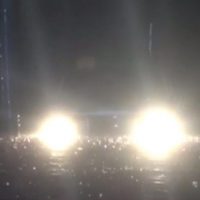 (New Bern, N.C.) — Despite a mandatory evacuation order on Tuesday, Craven County emergency crews reported rescuing multiple residents from Hurricane Florence floodwaters through the early morning hours. New Bern officials reported on Twitter that about 150 people were waiting to be rescued, and two Federal Emergency Management Agency teams were in the area. New Bern Mayor Dana Outlaw said about 200 people have been rescued so far. Most of the swift-water rescues were being made in areas along the Neuse River.
The National Hurricane Center says Florence is about to make landfall in North Carolina bringing with it life-threatening storm surges and hurricane force winds. As of 5 a.m., Florence was 25 miles east of Wilmington, North Carolina. Its forward movement was 6 mph. Hurricane-force winds extended 90 miles from its center, and tropical-storm-force winds up to 195 miles.
The Miami-based center had said earlier Friday Florence's arrival would come with "catastrophic" fresh water flooding over portions of the Carolinas.