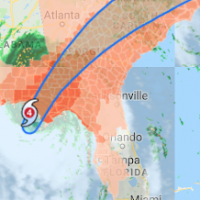 Hurricane Michael roared ashore on Wednesday afternoon, making landfall after intensifying into a powerful storm and then battering the region for hours. Michael is the strongest hurricane on record to strike the area, and it has been lashing the coastline with intense winds and rains, which forecasters say could lead to "potentially catastrophic" consequences.
Michael made landfall as a catastrophic, unprecedented Category 4 hurricane on the Florida Panhandle early Wednesday afternoon. Life-threatening storm surge and 100-plus-mph winds are expected not just near the coast, but also inland, which could leave some areas without power for over a week.
Michael made landfall near Mexico Beach, Florida, around 12:30 p.m. CDT Wednesday with maximum sustained winds of 155 mph.
It is the strongest hurricane to strike the U.S. mainland in more than  20 years.
The storm whipsawed trees, blew away large chunks of fencing and bent stop signs almost parallel to the ground. Videos posted to social media showed a tapestry of damage near a marina in Mexico Beach: waterlogged homes, flying debris, splintered wood. But it was impossible to gauge the full extent of the carnage because the waters, already topping some buildings whose roofs just peeked through, were still rising.
"This is the worst storm that our Florida Panhandle has seen in a century," Gov. Rick Scott warned.