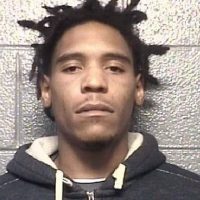 (Danville, Va.) – One man sought for questioning in a fatal Christmas shooting has been found while another is still being sought by Danville Police.
27-year-old Brandon Marcha Jones of Danville surrendered to police this week and was charged with felony possession of drugs. He has since been released on bond. Police said earlier that Jones was a person of interest who might have information related to the murder.
Brandon Jones and 34-year-old Antwain Maurice Jones, of Culpeper, Virginia, were both being sought for questioning in connection with the death of 31-year-old David Bernard Stewart. The Danville man was shot and killed while attending a Christmas party on Downing Drive in the Windsor Heights subdivision on Dec. 23. A 23-year-old female was also wounded.
Jones remains at large. He is wanted for domestic assault and battery and possession of a firearm by a convicted felon. Anyone with information is asked to call Danville Crime Stoppers at (434) 793-0000.