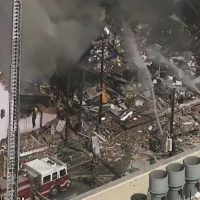 (Durham, N.C.) — Police have identified the person killed in a blast that leveled a two-story building in downtown Durham. The Durham Police Department identifies the victim as 61-year-old Kong Lee. Police said he was the owner of Kaffeinate coffee shop, which was located at the site of the explosion.
Police officials said that boring work in the area appears to have caused a gas leak that preceded the explosion. The cause of the blast is still under investigation.
Emergency responders were evacuating the area when the blast erupted, Durham Fire Chief Robert Zoldos said.
The blast occurred just after 10 a.m. in the busy area of Brightleaf Square, where people grab a morning coffee and visit other shops. A contractor boring under the sidewalk hit a 2-inch gas line, said Durham police spokesman Wil Glenn.
Seventeen other people were taken to area hospitals, including six in critical condition.