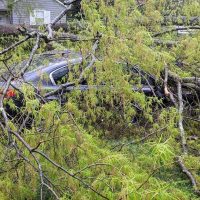 (Danville, Va.) — The severe weather threat for the Danville area is now over, although wind gusts of 35 mph are possible through Monday. The cold front that had created the strong to severe storms pushed through Southside Sunday night, bringing heavy rains and strong winds.
There were reports of several downed trees in the area. One fell on a car in a church parking lot in Blairs, while another blocked Pineview Road in Brosvillle and the threat of severe weather prompted the National Weather Service to issue a tornado watch for the region through 8 p.m. Sunday.
There were no reports of injuries associated with the storm locally.
In North Carolina, severe weather knocked out power to thousands across the Piedmont Triad between late Sunday morning and into early Monday morning.