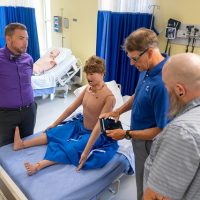 DANVILLE, VA — Averett University is now one of a handful of schools in the country to offer an ENP post-master's certificate in nursing. Averett will launch the expanded graduate level nursing program in the fall.
The addition marks Averett's largest expansion into health sciences education to date and will provide a master's program with a family nurse practitioner focus and a post-masters emergency nurse practitioner program. Averett is one of only 13 schools in the country and the only in Virginia and North Carolina to provide such training and will also offer clinical placements for all nurse practitioner students.
Averett University President Dr. Tiffany M. Franks said it is "important that these offerings will allow nurses in the surrounding area to train for better-paying jobs without traveling far away. We hope this will encourage these nurses to stay close, serving the people in rural Virginia and North Carolina where the need for qualified and experienced health care professionals is great."
Nurses who are certified as ENPs are qualified to provide care for acute and critical illnesses and to treat serious trauma and injuries. They are able to work in emergency rooms and other urgent care facilities, including Level One Trauma Centers, the highest level of emergency care accessible in a hospital setting.
With the ability to diagnose, prescribe, perform procedures and confer with physicians on complex cases, ENPs are highly valued health care professionals with many job opportunities.