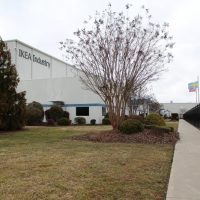 DANVILLE, Va — Furniture maker IKEA announced Wednesday that it will cease operations at its Danville plant in December. The operation employs 300 workers.
Production at the Danville facility began in 2008 and the local plant produces wood furniture for the company's retail operations in the U.S. and Canada. That work will now be moved to IKEA plants in Europe. The Danville plant is the only IKEA Industry production factory located in North America.
IKEA said despite repeated efforts to improve efficiency and productivity, the cost structure for the Danville plant is too high, especially when it comes to raw materials.  The same products can be made in Europe for less money.
Production will continue in Danville through December. Including dismantling, IKEA Industry will be in Danville through the spring of next year.
In announcing plans to close the Danville operation, IKEA's site manager issued the following statement:
"This was an extremely difficult decision to receive. We made every effort to improve and maintain the competitiveness of this plant, but unfortunately the right cost conditions are not in place to continue production in Danville, VA for the long-term," said Bert Eades, Site Manager, IKEA Industry Danville. "We will do everything we can in the coming months to support our co-workers through this change as they look for new jobs and training opportunities."