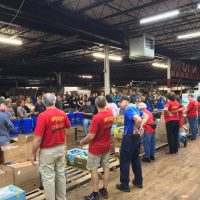 DANVILLE, Va. — God's Pit Crew has launched its most ambitious project to date: rebuilding a flood-damaged school in Moffett, Oklahoma. The Arkansas River broke records when it rose to over 40-feet, leaving the entire town under several feet of water for nine days.
Flooding in May decimated the small town and the Moffett School wasn't spared. GPC President Randy Johnson says just the cinder block walls were left standing. The interior must be gutted and replaced and the cost is staggering, about $300,000.
He says the agency will be raising money and manpower to rebuild the school in August.