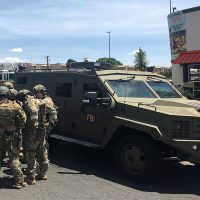 (El Paso, TX) –   As of 8:00 pm EST, A press conference hosted by state and local officials including Texas Governor Greg Abbott has just concluded and the number of casualties from today's shooting outside a Walmart in El Paso is 20.   Another 26 have been injured including two children.  Original reports suggested a nearby mall was also part of this shooting but that has since corrected.
El Paso Police Chief Greg Allen stated that the first officer arrived on scene six minutes after the first 911 call came in.  The suspect was located a short time later and surrendered to authorities without incident.  As the investigation continues there have been reports of a manifesto presumably issued by the shooter is being reviews and the State of Texas has hate crime and capital murder charges pending further investigation.  The weapon used in the incident as indicated by leaked surveillance footage was an AK47 style assault rifle.  Chief Allen would not confirm the photos authenticity at this time.
The investigation is ongoing with assistance from the FBI, ATF, along with other federal, state, and local entities.
As of 5:40 pm EST, sources close to the investigation have acknowledged the shooting suspect is a 21 year old white male named Patrick Crusius.  He was taken into custody without incident.  Crusius is from Allen texas which is roughly 650 miles from where the shooting took place.  According to El Paso Police spokesman Sgt. Robert Gomez there were roughly 3,000 people in the Walmart and mall area near the at the time of the incident.  Gomez also said a rifle was used but didn't specify the style of weapon.
(Original Post)  Authorities from multiple agencies converged Saturday morning on a shopping mall in El Paso, Texas after reports came in of an active shooting. The shooting began at a nearby Walmart and then moved into the mall where one suspect was detained.  Police at this point believe there are no other shooters.
Both the Mayor and Sgt Enrique Carrillo confirmed there have been multiple fatalities with at least twenty-two victims transported to area hospitals.  Agents from the FBI as well as the local Sherriff's office are on site assisting El Paso authorities.  Agents from the ATF are also on route.
We will have more updates as they become available.