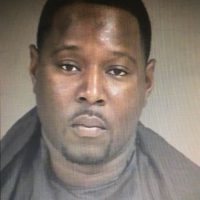 (South Boston, VA) – South Boston Police are on the look out for a man they say opened fired on a vehicle over the weekend.  Police were called to Seymour Drive just after 2am Sunday, for reports of shots fired and upon arrival they found a 2007 Range Rover with four bullet holes down one side.
Authorities are searching for 34-year-old Steven Aaron Gregory, Jr. of South Boston in connection with this incident.  Gregory has 11 outstanding warrants for his arrest including attempted first-degree murder, use of firearm in commission of a felony, and shooting a firearm from vehicle.
Witnesses reported the suspect pulled up next to the Range Rover in a 2014 Audi and opened fire while both vehicles were moving.  No one was injured in the shooting.
Anyone with information is asked to contact South Boston Police at 434-575-7203.