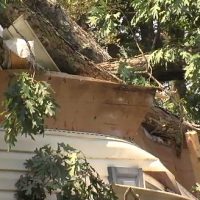 GRETNA, Va. – The Red Cross is assisting a Pittsylvania County family after a tree fell in their yard, destroying their Gretna home.
Family members were able to get out as a strong thunderstorm felled a tree on Kelly Lane at around 5 p.m. Friday.
One woman was taken to the hospital in Gretna, where she was treated for a leg injury.
The storm packed strong winds and knocked out power to a number of homes after multiple trees toppled in the northern end of Pittsylvania County. The storm was also blamed for one car crash.
Emergency personnel from Gretna, Hurt and Blairs responded.