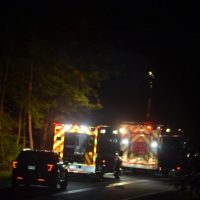 PITTSYLVANIA COUNTY, Va. – Virginia State Police say a Danville man was killed in a motorcycle accident in Pittsylvania County Sunday.
Police said 30-year-old Shawn Peterson was going south on Route 869 when he ran off the left side of the road and hit a tree Sunday night. Brosville Fire and Rescue responded to the 38-hundred block of the Stoney Mill Road, after the rider crashed near a guardrail and was thrown from his bike.
Peterson was wearing his helmet but died at the scene.
(Photo: Leonard Harville)