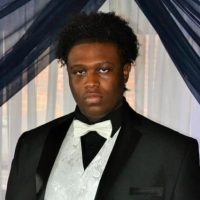 DANVILLE, Va. – Students and faculty at Galileo Magnet High School and mourning the death of DeAndre Smallwood.
Reports to this newsroom indicate that Smallwood was killed in an accident early Sunday morning.
The state trooper who investigated said 19-year-old Cody Barber was driving a pickup truck north on Whitmell School Road around 12:30 Sunday morning when he ran off the left side of the road, hit an embankment, and overturned.
Three people were riding in the bed of the truck and were ejected in the crash. One was taken to Sovah Health Danville, another was flown to a Roanoke hospital with life-threatening injuries, and De Andre Najee Smallwood died at the scene.
Barber and two other passengers riding in the cab of the truck were not wearing seat belts and were injured in the crash. All three were taken to Sovah Health Hospital in Danville.
State Police said speed and alcohol are believed to have contributed to the wreck and charges are pending.
Smallwood was 19 and was a 2018 graduate of Galileo. Classmates described him "as one of the sweetest souls to grace the earth."