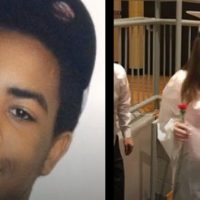 HALIFAX COUNTY, Va. – The families of a young couple found dead on a highway median in Turbeville say they are baffled by the deaths, which happened hours away from where they both live.
The parents of 19-year-old Ayanna Griffin and 21-year-old Ntombo Joel Bianda say they have no idea why the couple was even in the rural Virginia town.
Now, Virginia State Police are asking for the public's help in finding the person responsible for the murders.
Police discovered the bodies of Griffin, of Germantown, and Bianda, of Alexandria, Saturday morning, in the median of US Route 58 in Turbeville, which is a four-hour drive from Washington, D.C.
Both Maertens-Griffin and Bianda's bodies were found next to a silver Nissan Maxima, but Virginia State Police do not believe the pair died in a car crash and say a second car may have been involved.
In a press release, VSP said they believe both Maertens-Griffin and Bianda were murdered. The details as to how they died have not been released.