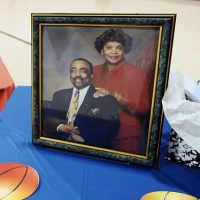 DANVILLE, Va. – Coach Harry Johnson has died. Johnson was 81 and spent 19 years coaching the Eagles, leading the boy's basketball team to a state championship.
He retired in 1996 but remained active in the community until shortly before his death.
During his tenure at G.W., Johnson's teams won 348 games, including 14 regular season district championships, and eight district tournament titles, including three G.W. teams reaching the VHSL semifinals.
Funeral services will be conducted on Saturday, February 15, at 11 AM from Oak Grove Missionary Baptist Church.  Interment will follow in Floral Hills Memory Gardens.  Viewing will be held on Friday, February 14, from 4-8 from Fisher and Watkins Funeral Home with the family being present from 6-8 PM.
Born July 12, 1938 in Danville, VA, he was the son of the late West Moreland Johnson and Catherine Slade Johnson Lenhardt. He was married to Lois Gaynell Fitz Johnson, who survives.
Survivors include one daughter, Gabrielle J. Ashya of Graham, NC; one son, Christopher A. Johnson of Danville, VA; one sister, Denise Lenhardt Benoit of St. Croi, VI; one brother, Ricardo Lenhardt of Danville, VA and a host of other relatives and friends. In addition to his parents, he was predeceased by two sisters, Jean J. Lynn and Catherine J. Shelton.
The family will receive friends at the residence.