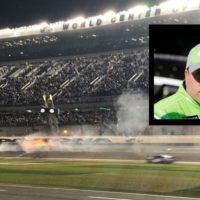 DAYTONA BEACH, Fla. (AP) – There was celebration for Denny Hamlin and great concern for Ryan Newman at the end of the Daytona 500.
Hamlin is the first driver to win back-to-back Daytona 500s since Sterling Marlin in 1994 and '95. Hamlin joined six Hall of Fame drivers as winners of three or more Daytona 500s. This victory comes after just the second rain postponement in 62 years, a pair of red flag stoppages and two overtimes.
Hamlin's celebration quickly became muted as drivers awaited an update on Newman's condition following a crash at the end. Two hours after the race, NASCAR read a statement from Roush Fenway Racing that said Newman is in "serious condition, but doctors have indicated his injuries are not life threatening."
Newman had surged into the lead on the final lap when Ryan Blaney's bumper caught the back of his Ford and sent Newman hard right into the wall. His car flipped, rolled and was hit on the driver's side by Corey LaJoie's car before finally skidding across the finish line in flames.
It took several minutes for his car to be rolled back onto its wheels. The 2008 Daytona 500 winner was placed in a waiting ambulance and taken directly to a hospital, and the damage to his Mustang was extensive. It appeared the entire roll cage designed to protect his head had caved.
Newman's accident comes 19 years after Dale Earnhardt was killed on the last lap of the 2001 Daytona 500. Earnhardt was the last driver killed in a NASCAR Cup Series race.