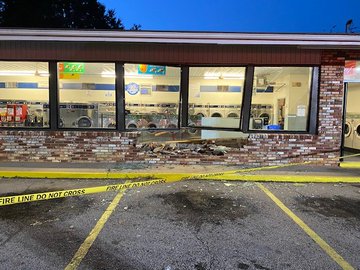 DANVILLE, Va. – An employee of a Danville laundry was injured Tuesday night when a car crashed into the business.
The Danville Fire Department responded at 7:15 p.m. to Laundry Land at 824 Westover Drive, where a vehicle struck the front of the building.
The driver had pulled the car away from the laundry and was parked in the front lot when rescue workers reached the scene.
The occupant of the car was not injured but an employee inside the business was transported to Sovah Health Hospital by the Danville Life Saving Crew. The injuries were not life-threatening.
Firefighters built "T" posts to support the front of the building, which was covered in plywood until repairs can be made.
The Danville Police Department investigated the crash.