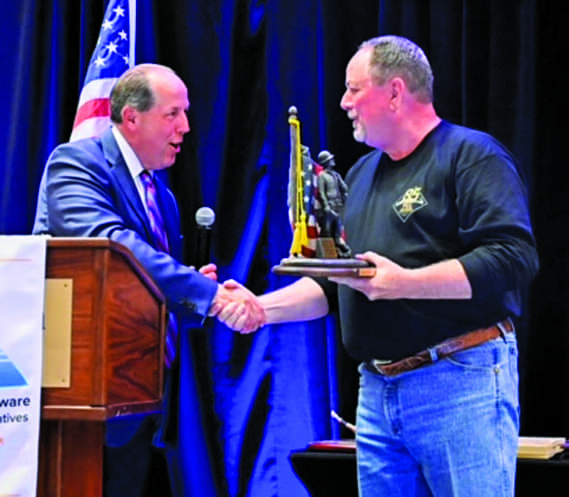 John C. Lee, Jr., president and CEO of Mecklenburg Electric Cooperative, was recognized for his leadership and guidance at the 19th annual Gaff-n-Go Rodeo, held May 19-20 at Meadow Event Park in Doswell. The event is hosted each year by the Virginia, Maryland & Delaware Association of Electric Cooperatives (VMDAEC), and Lee was the original committee chairman, serving from 2010 until stepping down last year.
"John has been at the heart of this event since the VMDAEC created the Gaff-n-Go Committee in 2010," said Brian Moser, VMDAEC president and CEO. "As the original chairman of the committee, he has been instrumental in leading the Gaff-n-Go to new heights, establishing this event as one of the premier regional rodeos in the country. Throughout his tenure, his focus on making this a top-quality event for the lineworkers, and one that their families could enjoy, has always come through."
In making the presentation, Steve Harmon, president and CEO of Community Electric Cooperative and new Rodeo Committee chairman, said, "John has certainly left some big shoes to fill, and I'm glad he continues to serve on the committee, as his passion for this event comes through in everything he does. His focus on the lineworkers, safety, and putting on a quality event is the foundation of our Gaff-n-Go rodeo and a big reason for our continued success."
The Gaff-n-Go is a series of competitive events that enable lineworkers to showcase the skills and safe work practices they utilize daily to keep your power on. By participating in the rodeo, journeyman lineworkers and apprentices can connect with, and learn from, other teams of lineworkers from around the region.
Lee has previously credited the rodeo's success to "focusing first and foremost on safety; secondly, providing fair and consistent judging; thirdly, creating a great event environment for lineworkers to showcase their skills for their family and friends; and lastly, holding an event that provides lineworkers the opportunity to enjoy comradery, competition, and share best safety practices with their counterparts at other utilities," adding, "When we do those four factors well the rodeo grows and prospers."
Since the committee's inception in 2010, under Lee's leadership, the rodeo has grown tremendously. Originally established as a competition for lineworkers only, the regional rodeo had six VMDAEC cooperatives participating; 2023 had 14 competing. In 2010, the rodeo had 10 Equipment Operator teams, 53 Apprentices, 26 Journeyman teams for 131 total lineworkers competing, and 0 Vendors participating. The rodeo has set new record numbers each year since then, and in 2023, those numbers grew to 20 Equipment Operator teams, 107 Apprentices, 37 Journeyman teams, for 208 total lineworkers competing, and 65 vendors participating.
Today, in addition to the electric utility lineworker categories, contractor and military divisions have been added, as well as a Gaff-n-Grill competition event, a BBQ dinner, vendors, and children's activities.
In receiving the award, Lee commented that chairing the Rodeo Committee had been one of his career's most rewarding responsibilities, and added, "It's been both an honor and a privilege to serve in this role. It's been an honor because of the tremendous respect I have for all the incredibly capable line workers who power our nation by keeping the lights on. It's been a privilege because of the great relationships I have been blessed to build with so many of you from all over our state and beyond … thanks to all for allowing me to be a part of this outstanding event the past 12 years."
Lee stated later, "Brian Mosier and the VMDAEC team have been the muscle behind the scenes of this event and without their dedication and hard work the event literally would not be possible. Steve Harmon shares my passion for this event and will do an excellent job as chair, making certain the event's benefits evolve with the demand and times."
To conclude the presentation, Harmon said, "John has been a great mentor for me, and I'm honored to be the one to present him with this sculpture of a lineman in front of our wonderful American flag. It is called 'Where Eagles Dare' and the inscription reads, 'In grateful appreciation for your dedicated service, devotion, and commitment to America's Lineworkers and the Gaff-n-Go Rodeo – John C. Lee Jr., Chairman, Gaff-n-Go Rodeo 2010-2022.'"