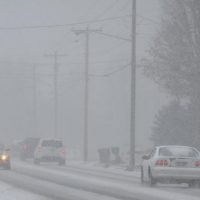 (Danville, Va.) – The National Weather Service says the first winter storm of 2019 will primarily be a snow and sleet event in the Danville area, with an inch to one-and-a-half inches of snow and ice expected locally. The city of Danville could get up to four inches, depending on the form the precipitation takes.
Blacksburg meteorologist Will Perry says Southside should see light snow or a mixture of rain and snow move into the area Saturday afternoon, before changing over to snow and mixing with sleet Saturday night around the North Carolina border. Sleet and freezing rain are likely late Saturday night and Sunday morning before changing back to snow and tapering off Sunday afternoon.
Perry expects the Danville area will see more sleet and less snow than the northern end of Pittsylvania County. Higher snow totals are expected north of the Roanoke River, where 5-to-10 inches is possible.