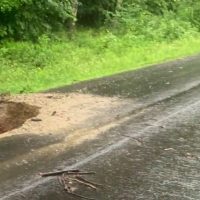 (Lincolnton, N.C.) — The North Carolina Highway Patrol says three people died in a weather-related crash just before 8 p.m. Saturday.
Troopers say three men died after their vehicle hit high water on a road west of Lincolnton and slammed into a tree and overturned in a creek. North Carolina's State Highway Patrol said the occupants were trapped inside as the vehicle submerged in several feet of water. The victims haven't been identified.
At the time of the crash, the water levels were higher than normal due to the heavy rainfall. The National Weather Service said Sunday that six inches or more of rain has fallen in parts of the region between Boone and Lincolnton since Thursday.
Catawba County commissioners declared a state of emergency Sunday to coordinate recovery after roads were closed by high water.
Residents of a Hickory apartment complex evacuated to a temporary shelter at Catawba Valley Community College.
Here in Virginia, Franklin County Fire and Rescue reported several road closures due to flooding.
About 2,400 power outages have been reported throughout Southwest Virginia. Appalachian Power said more 5,300 outages across Virginia and West Virginia have been reported.
Heavy rainfall is expected throughout the day Monday and flash flooding is possible.