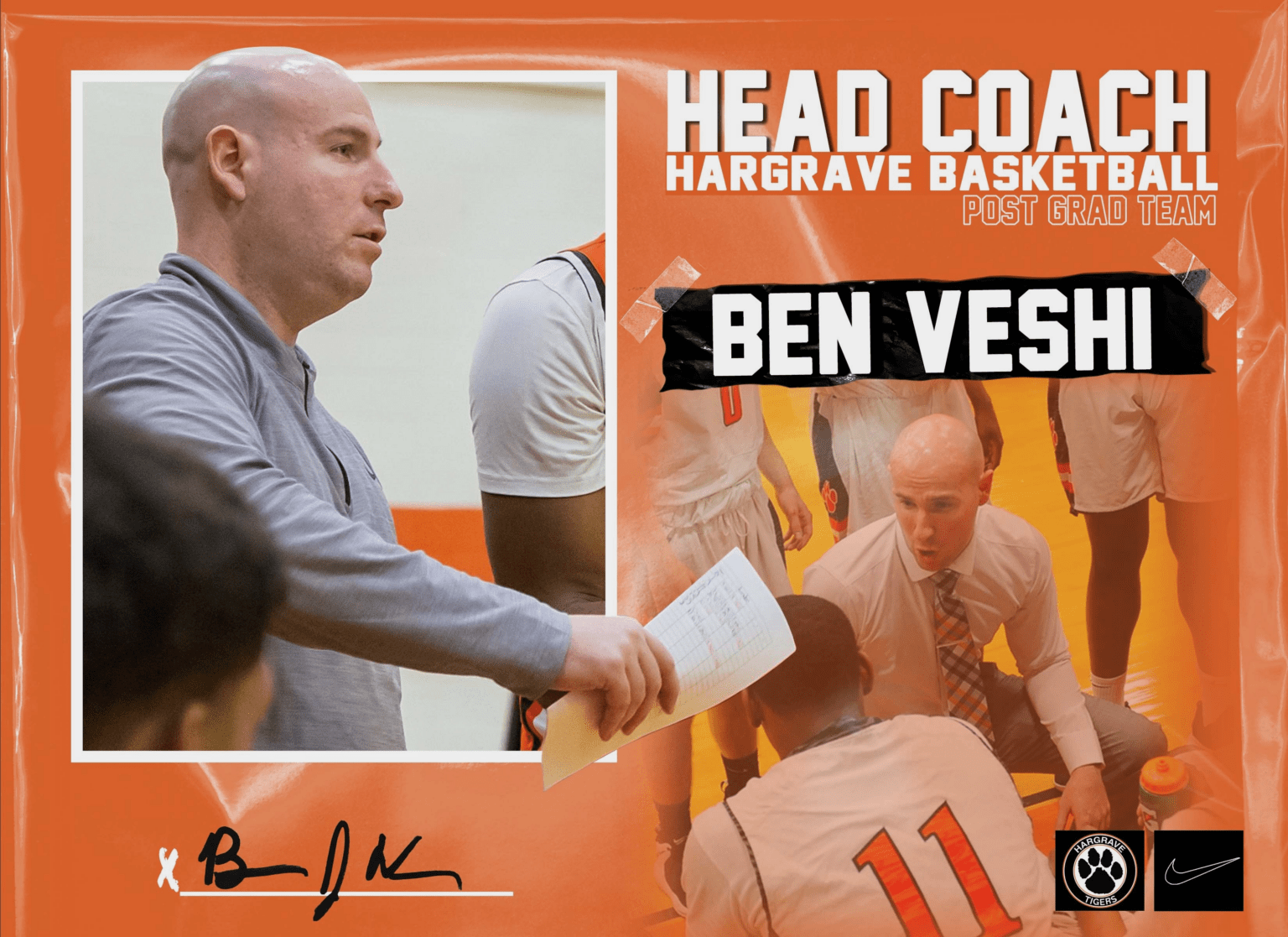 Hargrave Military Academy has named a new head coach of the post grad basketball team. On wednesday the school announced the hiring of Ben Veshi, who served as associate head coach for the team in 2022-23. Veshi has been at Hargrave since 2016 where he has served as an assistant to former head coaches AW Hamilton, Lee Martin, and Thomas Messinger.
Vehsi has also spent time as part of Hargrave's Senior Administration. The announcement comes after former head coach Thomas Messinger accepted a division one assistant coaching job at New Jersey Institute of Technology earlier this week. Veshi will also serve as the director for all of Hargrave's basketball teams.
Veshi's time with the postgraduate team has been a stretch of unfathomable success. Serving under Messinger, Martin, and Hamilton, his teams have achieved an overall record of 200-16, highlighted by two Final Four appearances (2017, 2020), and an Elite Eight appearance (2019).
Hargrave has reached the National Tournament every year that Veshi has served on staff. All told, Veshi has helped 67 players and counting continue their careers at the Division 1 level in his five years with the program. Veshi was part of the Hargrave team that set school records for points scored in a single game (173; 2019).
During his time with the Postgraduate Basketball team, Veshi also elevated Hargrave's Varsity Basketball program to unprecedented heights. In his four seasons as Head Coach, he established a modern-era school record for wins in a season (26) and earned four straight berths to the VISAA Elite Eight en route to an overall 75-32 record (.701 winning percentage). Veshi was honored with Hargrave's O.B. Teague '42 Coach the Year Award after the 2018-2019 season. During his four years with the Varsity Basketball program, Veshi developed and coached 23 collegiate players including 8 at the Division 1 level. Veshi has also served as Director of Athletics (2020-2023), where he was able to obtain a Master's of Sport Administration from Arkansas State University, and College Counselor (2017-2022) in addition to his roles within the basketball program.
"I am humbled and honored to be named the Head Postgraduate Basketball Coach at Hargrave. I first have to thank Mr. Eric Peterson, Mr. and Mrs. Davenport, and the Board of Trustees for giving me the opportunity to lead our program. Hargrave has been the gold standard of prep school basketball for the last 30+ years, not only because of the tremendous success achieved on the court but also because of the holistic development and institutional support that occurs off the court. For the last seven years, I've been fortunate to learn from and grow under fantastic coaches like A.W. Hamilton, Lee Martin, and Thomas Messinger, who excel in developing young men in all phases of their life. I am eager to build upon the success of our program, honor the legacy of great players and coaches that came before me, and continue to provide a platform for student-athletes to achieve their dreams for years to come." Veshi commented.
Before arriving at Hargrave, Veshi earned a Master's of Business Administration in Marketing from Nichols College in Dudley, Massachusetts while serving as an Assistant Men's Basketball Coach at his alma mater, Catawba College, an NCAA Division 2 institution located in Salisbury, North Carolina, from 2014-2016. Prior to coaching at Catawba, Veshi broke into the coaching profession as an Assistant Boys' Varsity Basketball Coach and Assistant Girls' Varsity Basketball Coach at Marianapolis Prep in Thompson, Connecticut, where Veshi attended high school. Veshi graduated from Catawba in 2013 with a Bachelor's of Science in Sport Management with a minor in Business Administration and was a member of the Men's Basketball team as a walk-on under the leadership of legendary head coach, Jim Baker. During his time at Catawba, Veshi was a member of the 2009-10 SAC Regular Season Champion and earned a berth in the NCAA Division 2 Men's Basketball Tournament. Prior to Catawba, Veshi, a Webster, Massachusetts native, spent four years at Marianapolis Prep under the coaching leadership of Dave and Andrew Vitale, and took part in incredible levels of success including a NEPSAC Class D Championship as a freshman and three straight NEPSAC Class B Runner Up finishes during his sophomore, junior, and senior years.
"Hargrave is such a special place to me. There is no way that I could have left unless I knew I was leaving the program in the hands of someone who loves Hargrave deeply, has an intimate understanding of the school's culture, and will keep the program at an elite level. There is no doubt in my mind that Ben Veshi checks all those boxes, and is a perfect fit to lead the next chapter of Hargrave Basketball," commented Thomas Messinger. "The future of the program is very bright."