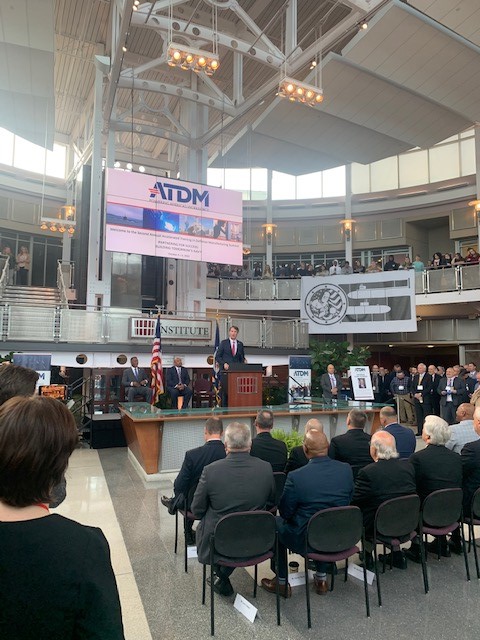 The Institute for Advanced Learning and Research officially opened the Center for Manufacturing Advancement (CMA) on Wednesday. The new center is a 51,250-square-foot facility that is a $28.8 million investment to promote collaboration among technology leaders and to provide state-of-the-art space for industry partners to optimize their operations and scale.
Virginia Governor Glenn Youngkin was in attendance to make the announcement that the U.S. Navy will be the center's first project partner. The Navy will have two of the high bays inside the center to serve their additive manufacturing center for excellence.
"What this does is it enables us to have students who are being trained on how to do things and then to be able to actually go do them real time, in a value added moment that we need to the capacity and capabilities to do," said Youngkin.
When the CMA is fully up and running it will be able to train 800 to 1,000 workers per year. This is a huge win for Danville and the surrounding area according to Youngkin.
"There will be lots of people coming here and coming here for training and that provides an overall nucleus for workforce," Youngkin said. "I expect will begin to see companies come here at a more rapid pace because they want to be close to the training, and we've already seen companies like Morgan Olson choose to be in Danville because of this great workforce and I think we're going to see that accelerate."
The two-story CMA features:
• rapid-launch facilities that will enable new businesses to begin limited operations off-site
during what is traditionally the initial downtime as new businesses wait for their factory to
be constructed and equipped to support full operations;
• an ISO-certified inspection lab that will provide integrated inspection capabilities required
to validate product quality. This service will reduce the start-up phase for a new company
by 4 to 6 months, the time required to certify an inspection lab;
• process improvement labs that will enable new and existing businesses to improve their
processes in a more expeditious manner, thereby ensuring global competitiveness;
• an industry 4.0 integration and training lab that will support next-generation manufacturing
requirements
• a platform for collaborative innovation that allows manufacturing companies, technology
companies and engineering students to work together to discover, integrate and showcase
emerging technology; and
• concierge service that provides the wrap-around support needed by companies new to the
U.S. during their critical start-up phase.